El Cotillo Fuerteventura (which is pronounced "El Cotiyo") is located on the north-west coast, facing the Atlantic Ocean.
It was once a small fishing village and, although it has grown, El Cotillo town fortunately still manages to retain its village feel. El Cotillo is described by many as the jewel of Fuerteventura.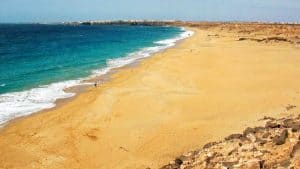 There are some of the nicest beaches on the island either side of the village.
To the south are the beaches that attract many surfers, wind surfers and kite surfers.
To the north are the lovely lagoon beaches which extend all the way to the lighthouse and beyond. See the Beaches page for more details.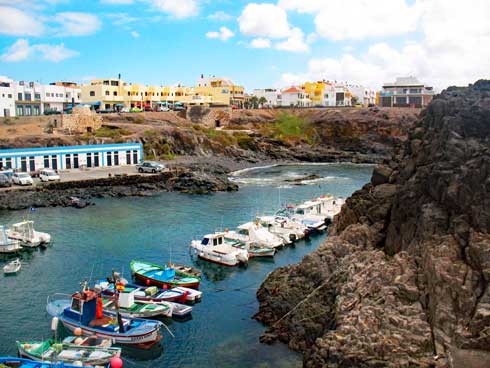 The village has two harbours. The old harbour, which is only used once a year now during the fiesta and the new harbour which is still used by the local fishermen and a dive school.
A fish market has been built on the quay in the new harbour but it is yet to open. Well this is Fuerteventura and very little happens quickly. Once it does then finally fresh fish, straight off the boats, should be available to purchase, which will be nice.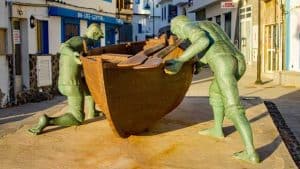 Day Visiting or Staying?
People often stay elsewhere in Fuerteventura on their first visit – Corralejo or Caleta de Fuste perhaps. Then they find Cotillo on a day trip by bus from Corralejo, on a coach or buggy trip or while touring in a hire car and quickly become smitten.
It is certainly a place that it is very easy to fall in love with. Many people come back year after year, and often more than once a year. Some even make it their home. It is the ideal laid-back place to stay. That is particularly true if you want to get away from the hen and stag nights, football shirts and the behaviour that goes with it in some other places.
There are two hotels and lots of lovely apartments to rent in the village. For a selection of these visit our page – Selected Apartments To Rent page.
Nightlife?
You won't find any nightclubs, nor too much in the way of noisy night-life, so if that is your thing then I suggest you go to Corralejo or Caleta. However, there are some really good bars and lovely restaurants in El Cotillo with plenty to choose from to eat at during a few weeks' stay.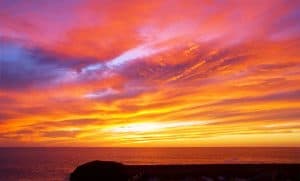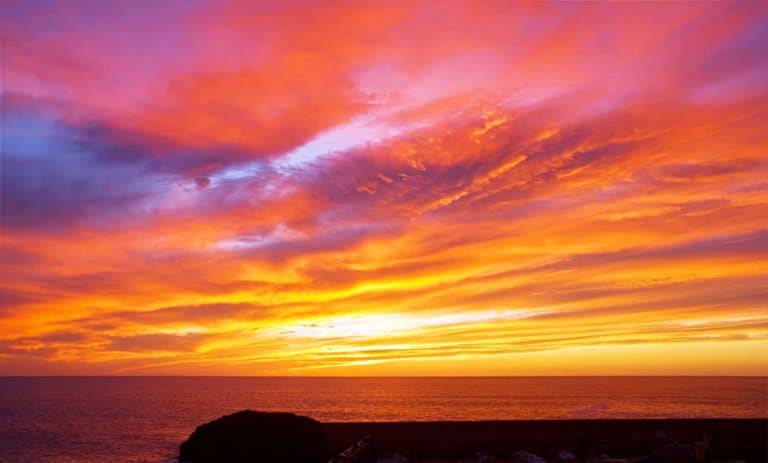 Cotillo is ideally suited for watching the wonderful sunsets that occur here due to it facing west across the Atlantic Ocean. What can be nicer than sitting outside a bar or restaurant with your favourite drink while watching the sun go down? There are plenty of places to choose from to do just that in the old harbour and elsewhere.
For those that like to lie around in the sun and relax it is an ideal place to be with so many wonderful beaches. But there is also plenty of things for those more active people to do. These range from water-sports such as surfing, wind surfing and kite-surfing to cycling or even Segway tours. Visit our 11 things to do in El Cotillo page to find out more.
El Cotillo Fuerteventura Video Tour
If you want to see what the village is like in greater detail then please check out the rest of the site and also watch this video: