El Cotillo bars are located in different parts of the village. One thing is for sure, you won't find noisy night clubs and bars in El Cotillo. Having said that, some of the bars do have live music some evenings but it is usually good acoustic music, not loud heavy rock. In fact El Cotillo seems to attract many talented musicians on holiday themselves who often end up giving impromptu performances.
There are chilled bars too where you can sit and enjoy a drink or two, perhaps while watching the sun go down after a day on the beach.
All of the bars sell food so you could also class them as restaurants too in many cases.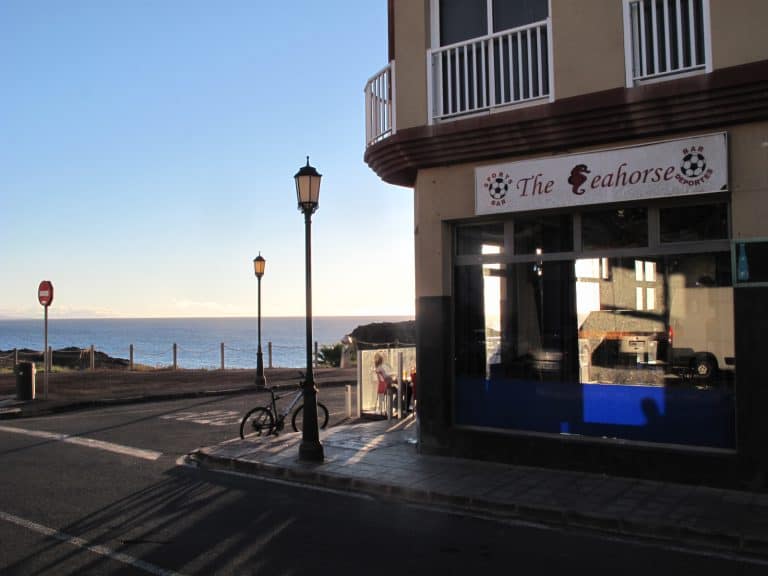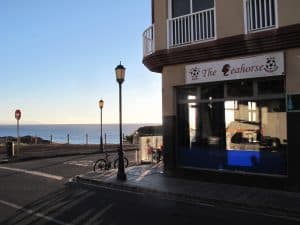 If you really need one you can get an "English Breakfast" at a few of the El Cotillo bars, such as the Seahorse or El Toston.
The only beach bar is Torino's on Playa de la Concha. See the beaches page.
El Cotillo Bars Map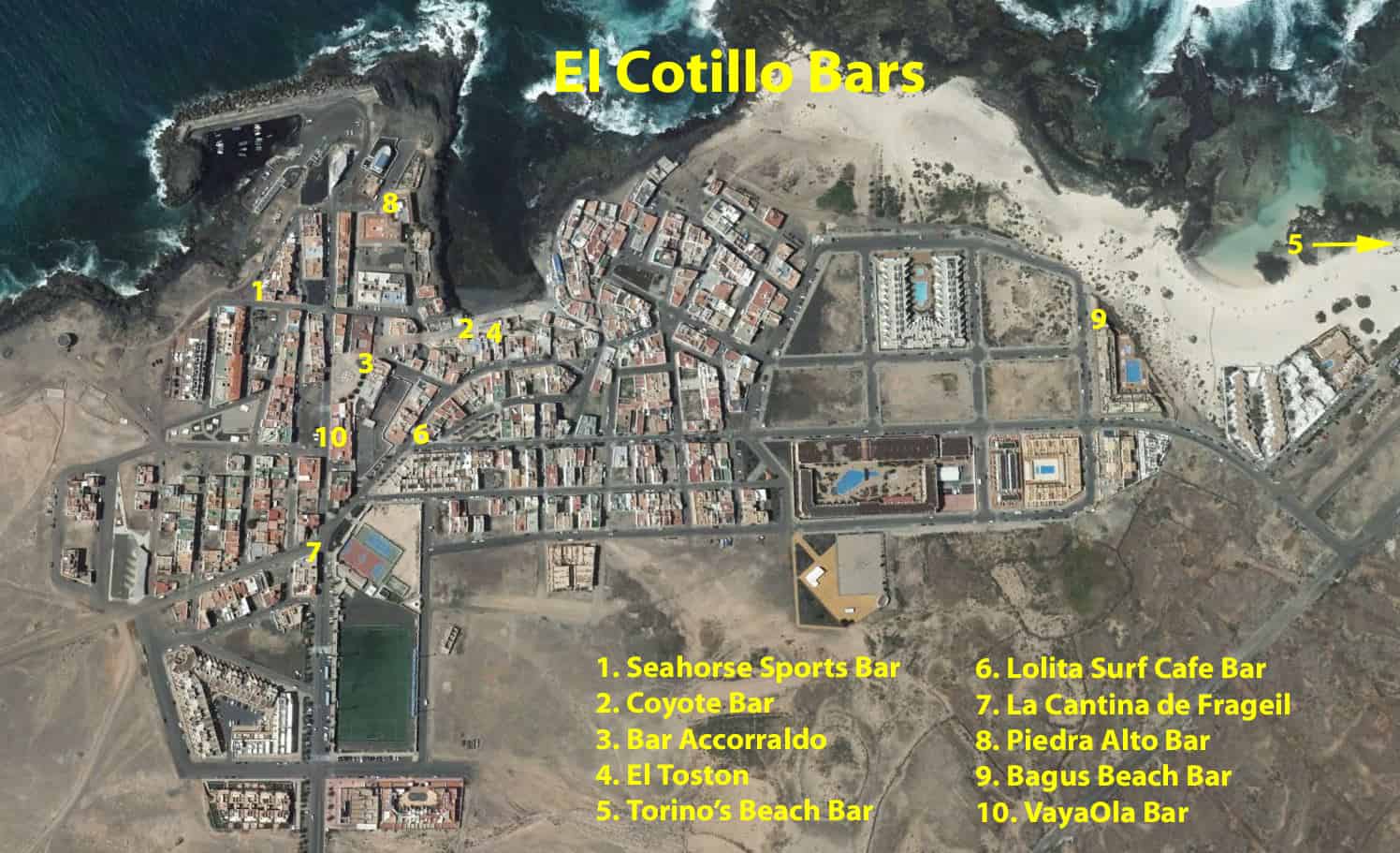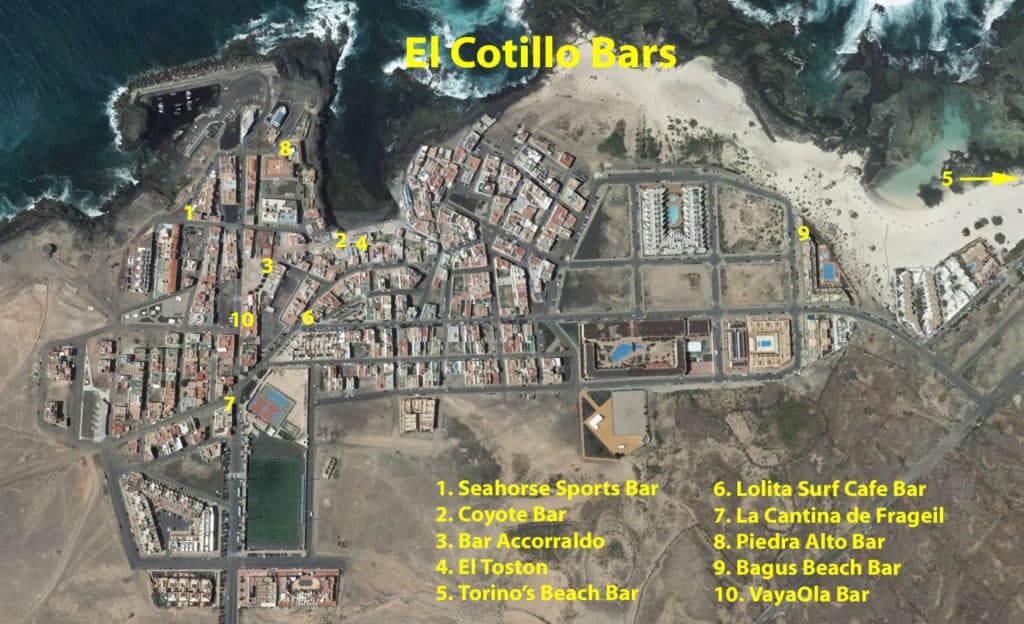 El Toston Harbour View Bar and Kitchen
The Toston has reopened and is now run by Jacqui and Iain who are long time El Cotillo residents. They serve good food and drink overlooking the old harbour. It is quickly beoming a favourite haunt for many again.
There are some great sunset views from the terrace.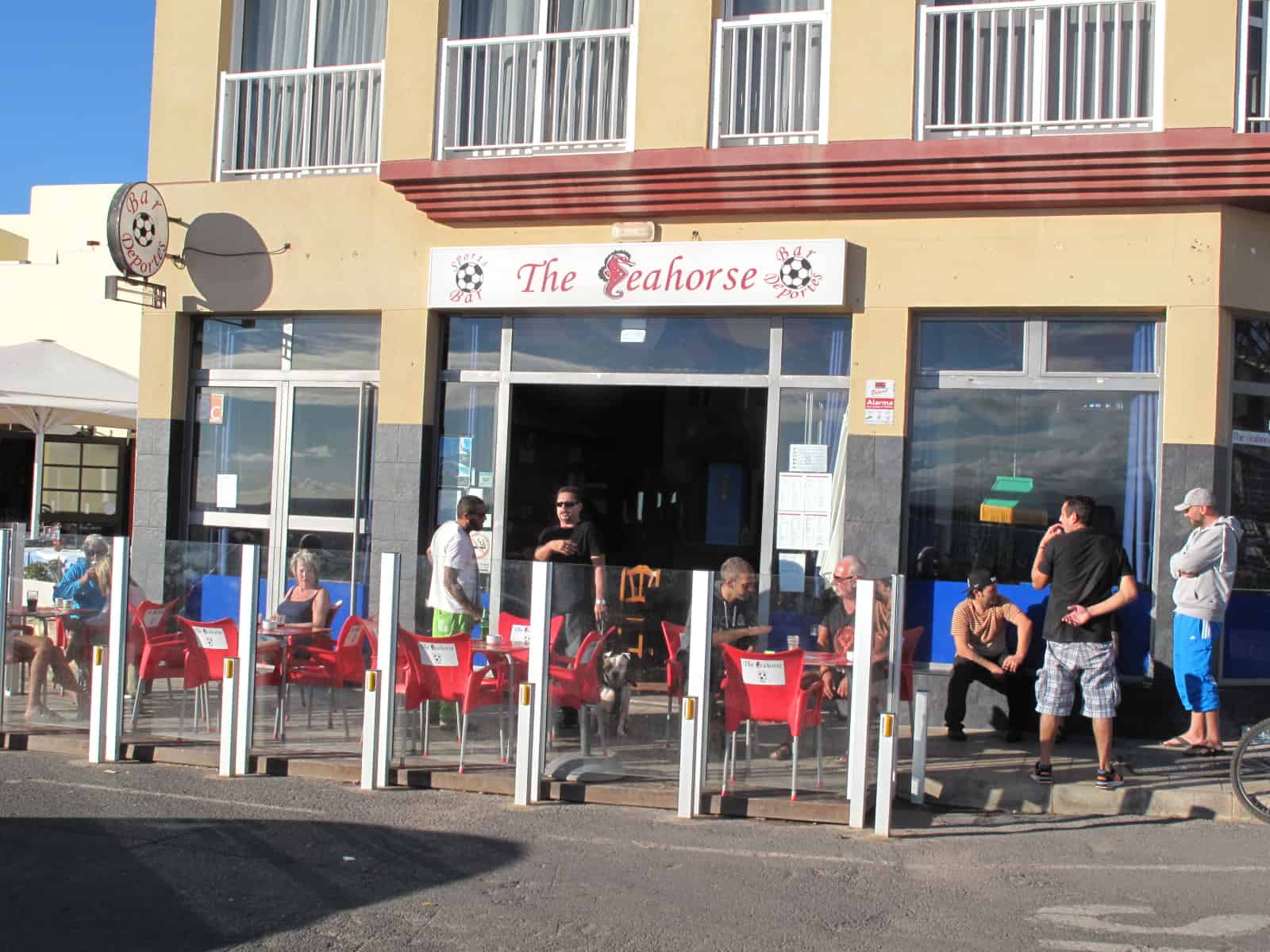 The Seahorse Sports Bar
The Seahorse bar shows many football matches on its 4 or 5 tv screens as well as rugby, F1 and many other sports. The bar is popular with locals, expats and holiday-makers. This bar overlooks the new harbour. Its fish, chips and mushy peas is very popular.
It is open all day, every day for food and drink. Seahorse Bar Facebook page.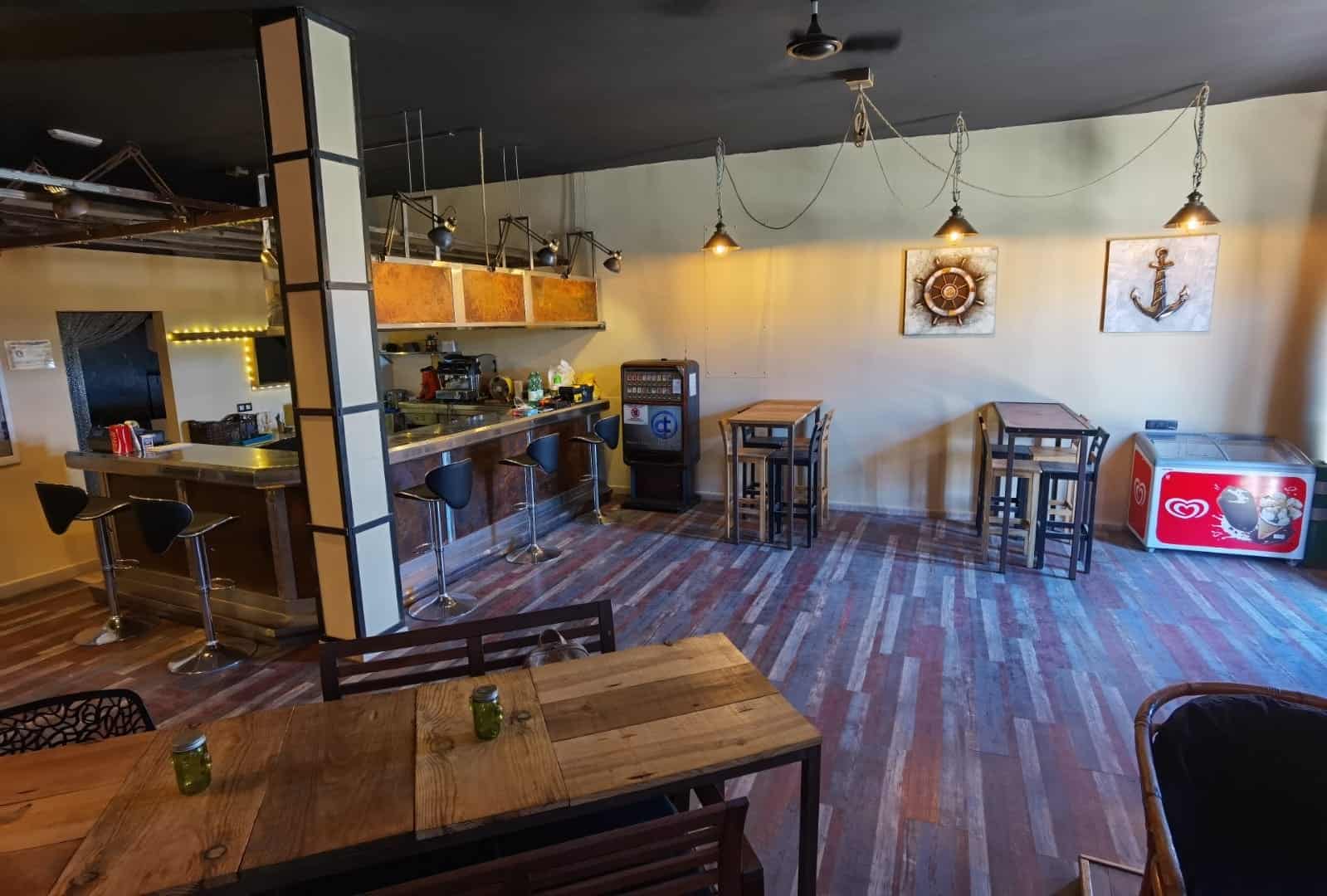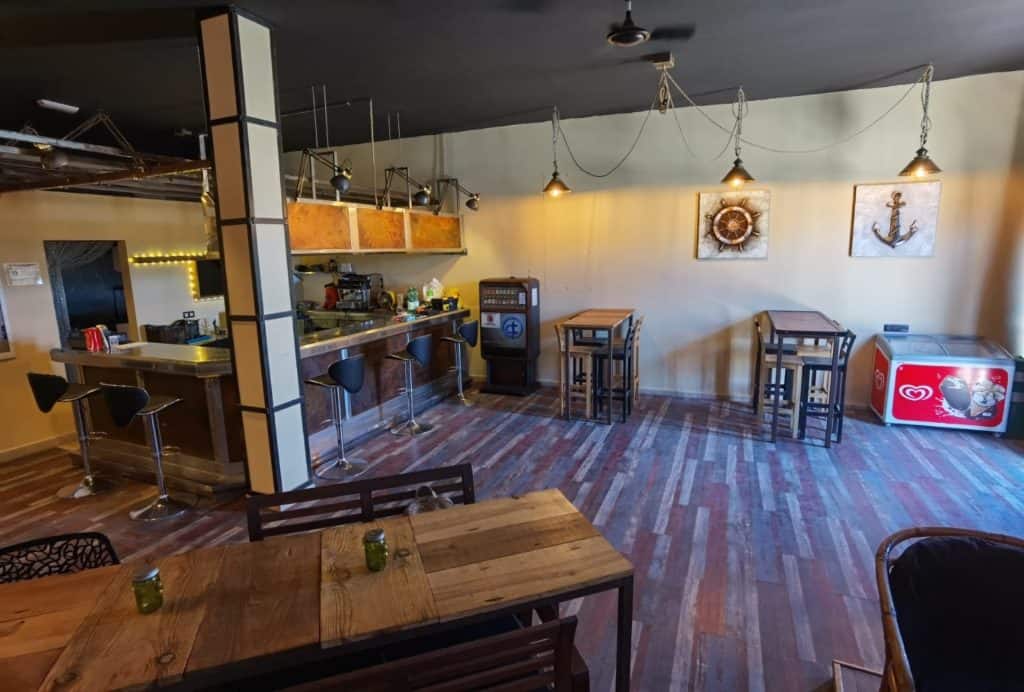 VayaOla Bar
The VayaOla bar is a lovely chilled bar and is located in the new harbour area of El Cotillo. It is at the other end of the street from the Rustica restaurant. Sells lovely homemade Bagels.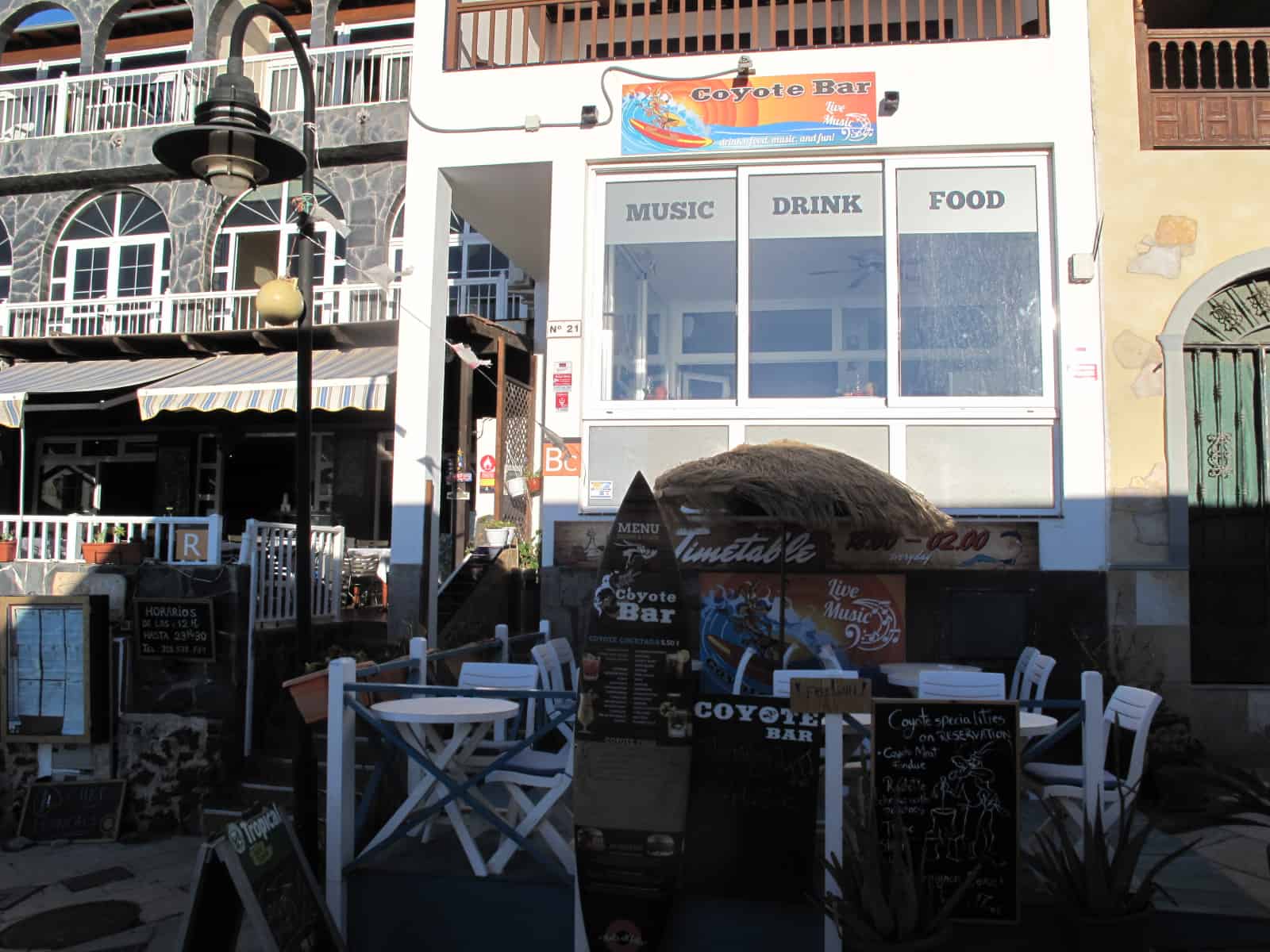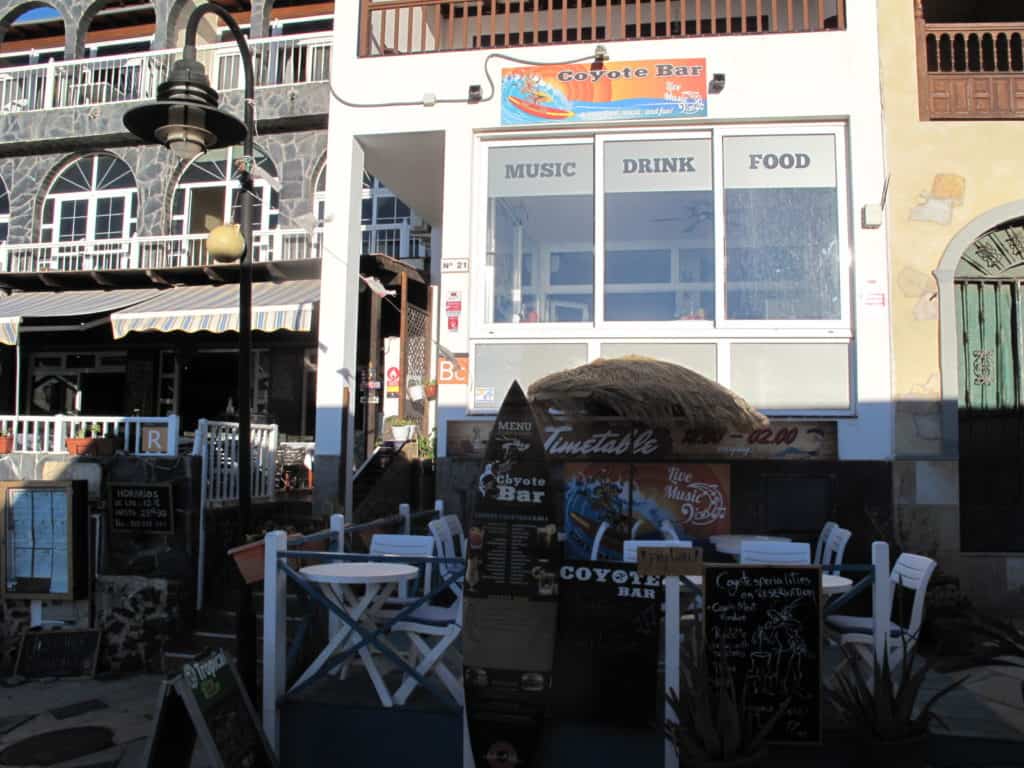 Coyote Bar
This is located at the top of the slope by the old harbour. It has a terrace area outside and then the main bar is up some steps.
It is quite a lively bar and has some good live music. It is run by Axel from Switzerland.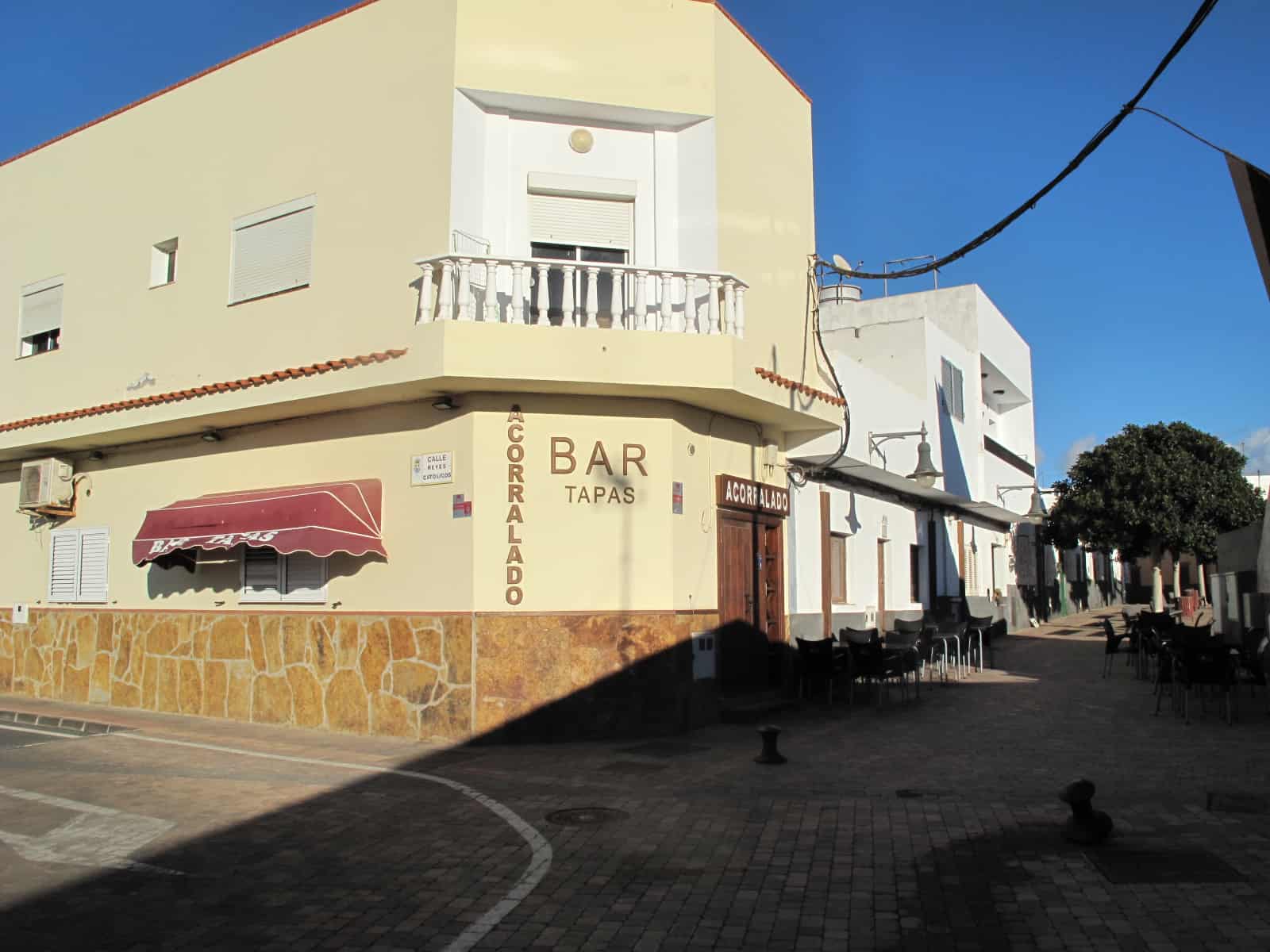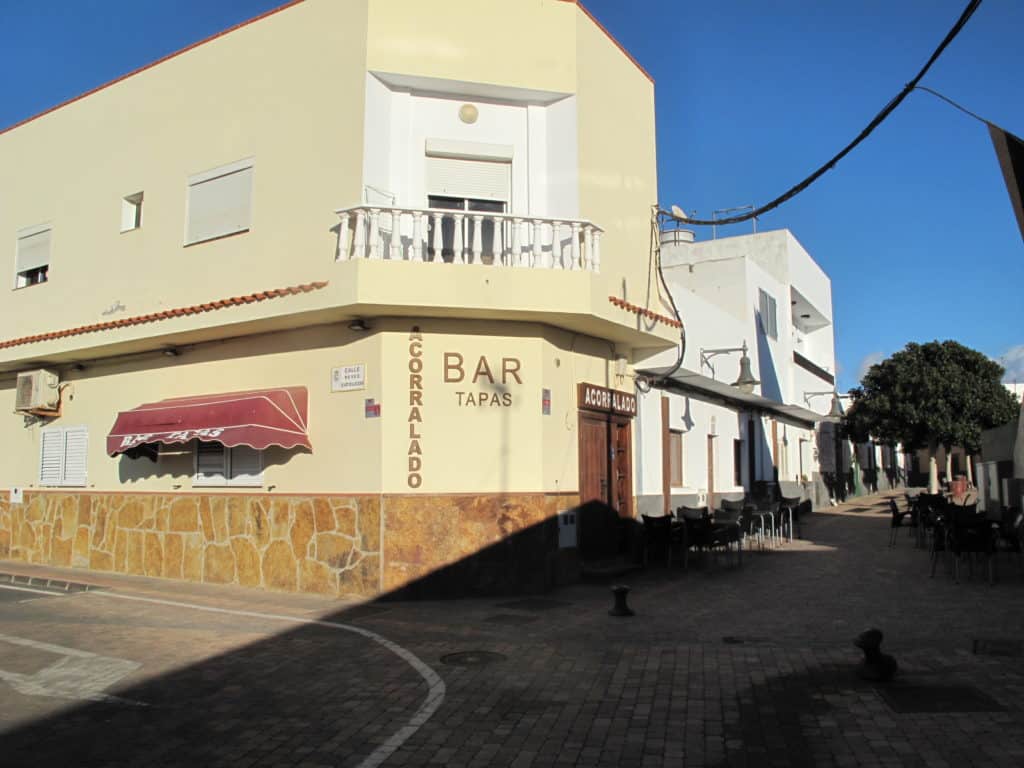 Bar Acorralado
This is a small bar on the corner of the little square, just off the main street.
It does some very good Tapas deals (5 tapas dishes, bread and a bottle of wine for 18€ the last time I looked.) It can be quite lively on Spanish football night which I think is Sundays.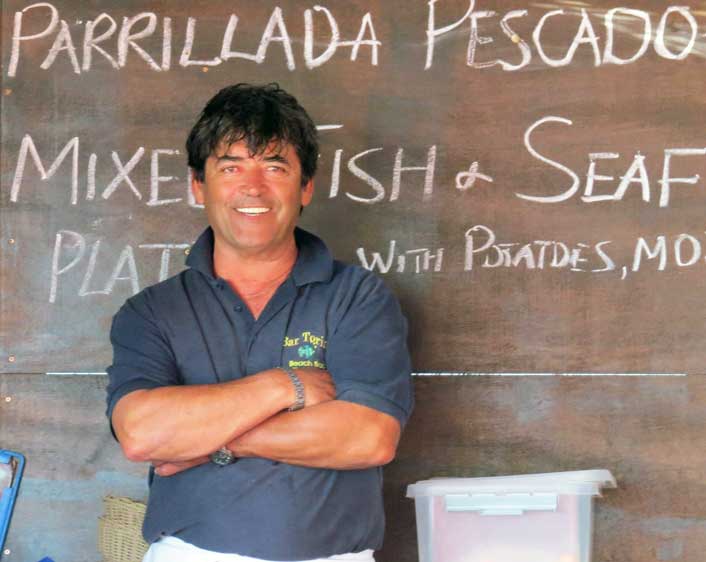 Torino's Beach Bar
This is the only beach bar in El Cotillo and has been run by Torino and his family for many years. It is located on La Concha Beach.
It is a great place for lunch when on the beach or just a cool drink or ice cream. Many say Torino's paella is the best in the village. Facebook page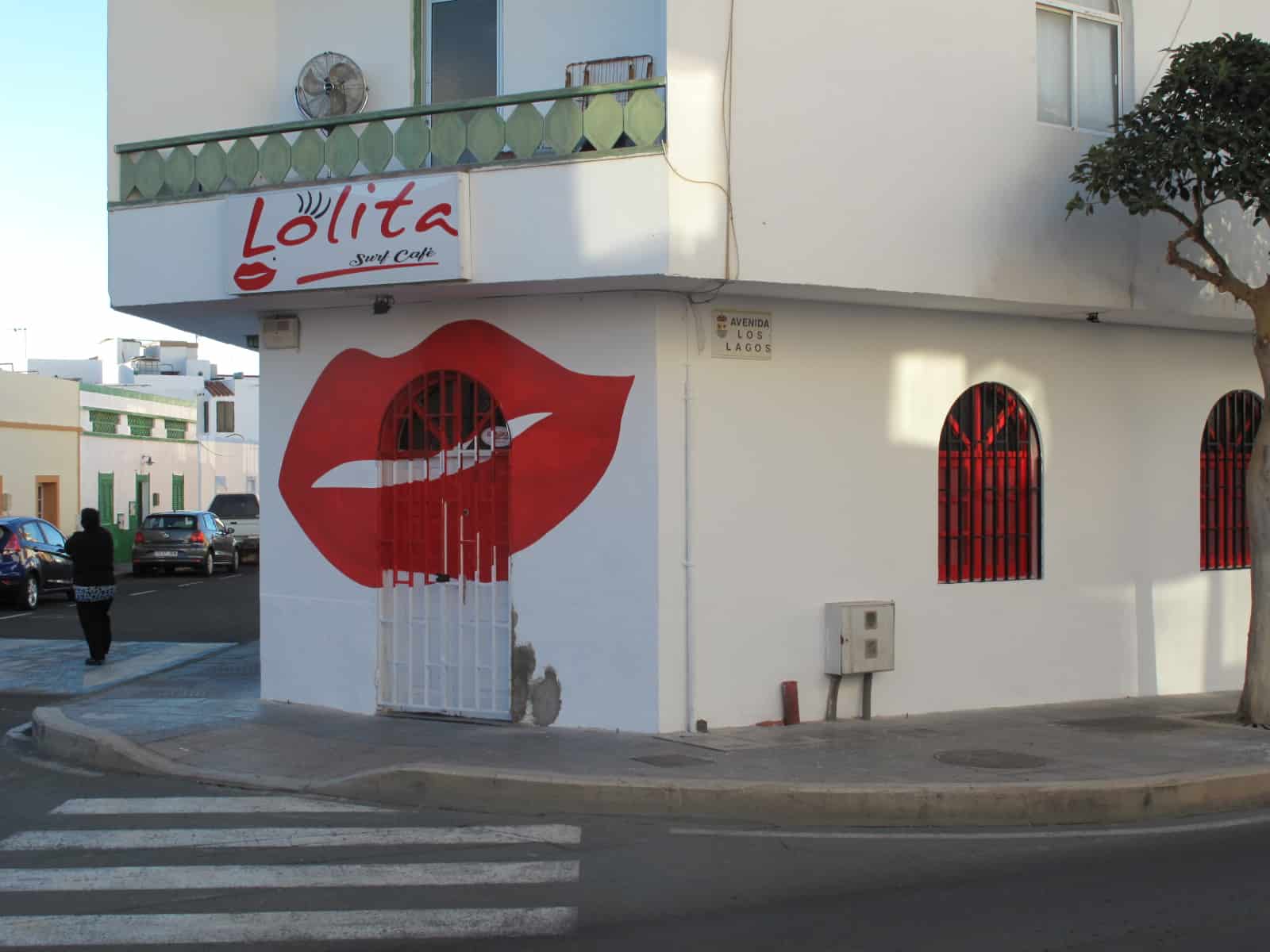 Lolita Surf Cafe Bar
A small bar located at the top of the High Street.
It can't be missed with the huge lips painted on the outside.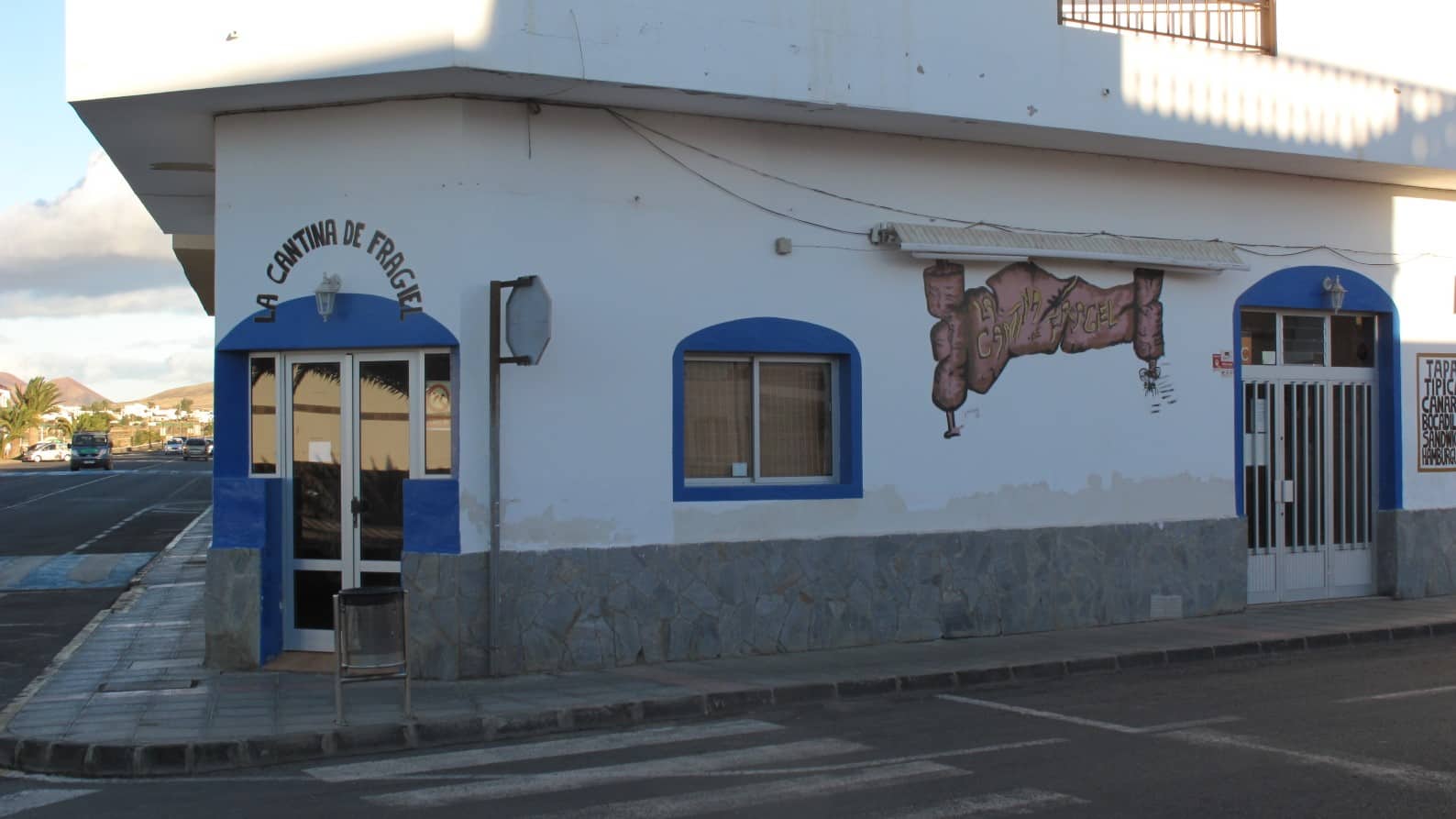 La Cantina De Frageil – "Fraggle Rock Bar"
A small bar opposite the football ground. Lively at times. Sells food as well as drinks.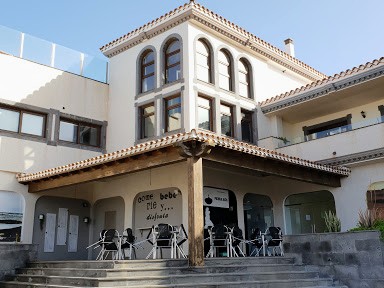 Piedra Alto bar/restaurant
The Piedra Alto opened in February 2019 and is located on the cliffs overlooking the old harbour. Good food with nice views.
They have live music a few nights each month.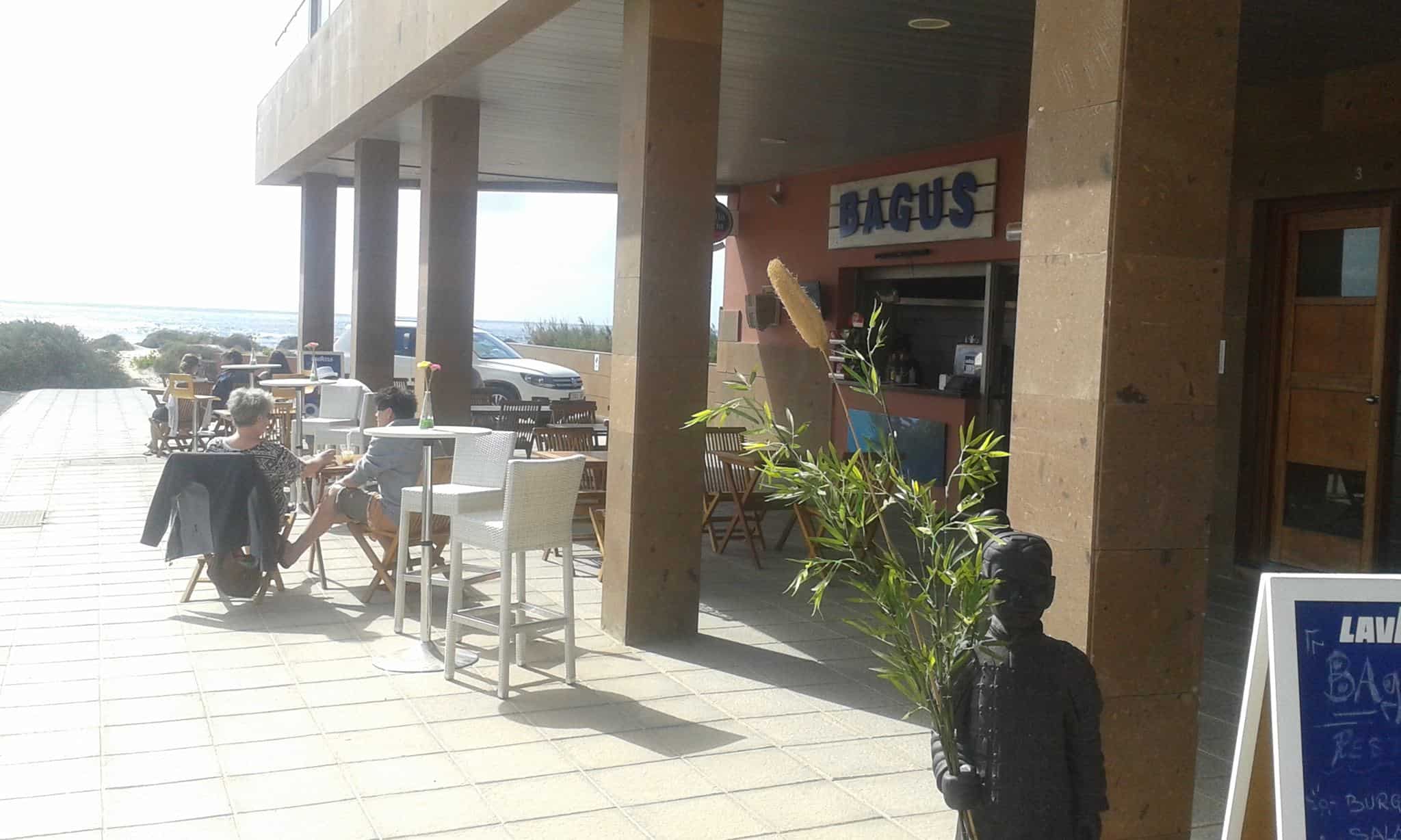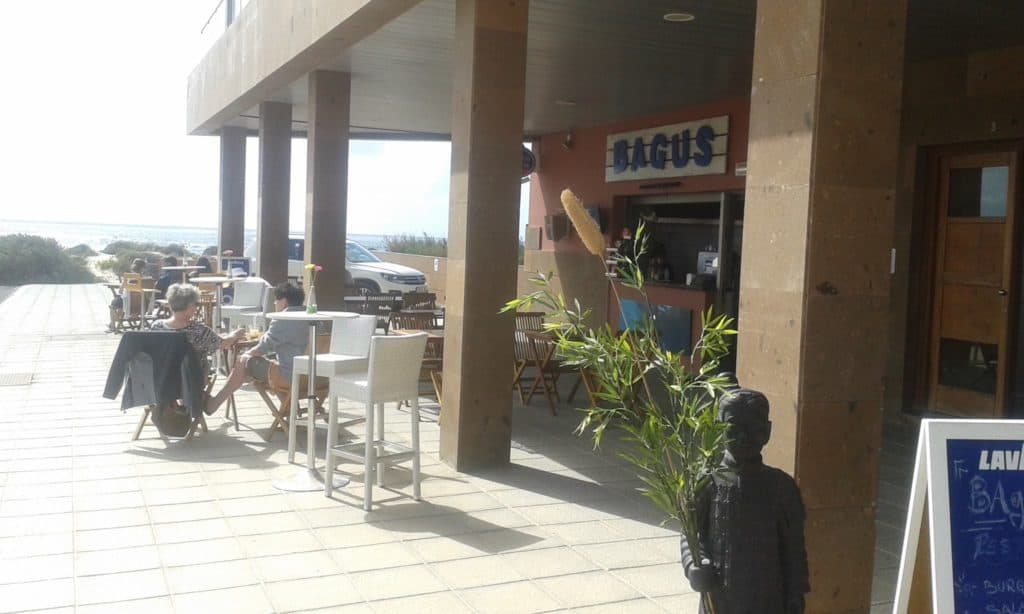 Bagus Beach Bar
This is located under the Marfolin apartments overlooking the first of the lagoon beaches.
It is a nice place for lunch or a drink when you going to or from the beach. Facebook page
Details of the many restaurants and cafes in El Cotillo
FAQ
Where is the best place to watch football in El Cotillo?
The Seahorse Bar, overlooking the new harbour, shows many football matches on around 5 different tvs including UK Premier League and European matches. Bar Acorralado normally shows Spanish matches on Sunday evening.
Where can I find draught Guiness in El Cotillo?
The Seahorse Bar, overlooking the New Harbour, serves draught Guiness.
Which bars have live music in El Cotillo?
On various nights of the week you can find live music in the Coyote Bar, Piedra Alto Bar and El Toston and occasionally at other bars – just follow the sound!