El Cotillo Fuerteventura is located on the north-west coast of the island, facing the Atlantic Ocean.
To many people, who visit regularly, it is the nicest place in Fuerteventura as it still feels like a village, it is relatively quiet but with great restaurants and bars and the icing on the cake are its beautiful beaches.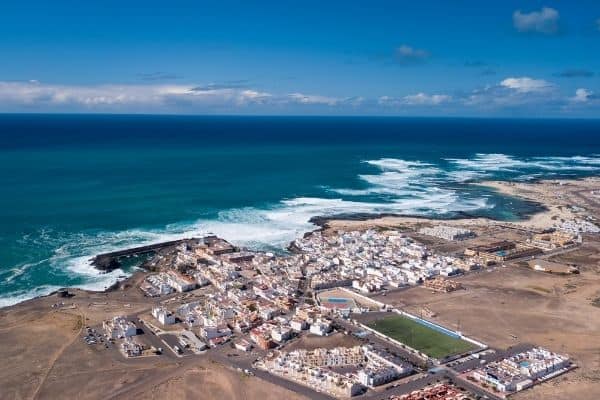 What is El Cotillo like?
I have holidayed and lived in and around El Cotillo for the past 20+ years. It is my favourite place in Fuerteventura.
It was once a small fishing village and, although it has grown, El Cotillo fortunately still manages to retain much of its village feel and charm. El Cotillo is described by many people as the jewel of Fuerteventura.
It is very laid back with a great selection of restaurants, some friendly bars, wonderful beaches, a good selection of shops and friendly people – both locals and expat residents.
Why do people love El Cotillo Fuerteventura?
Its beaches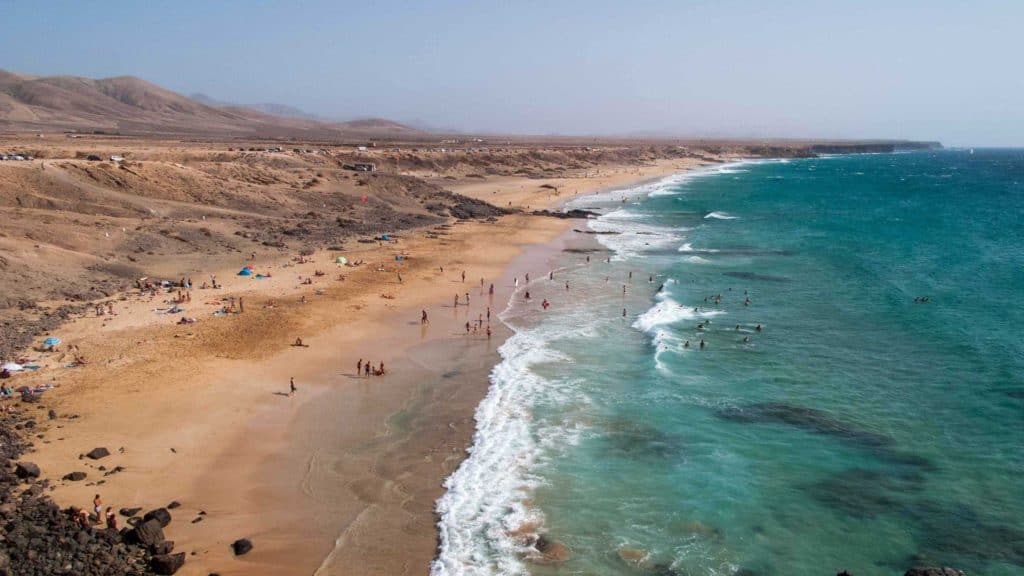 There are some of the nicest beaches on the island either side of the village. They are all completely natural without sunbeds, parasols and the other things which ruin beaches elsewhere.
To the south of El Cotillo are the beaches that attract many surfers, wind surfers and kite surfers. The first beach, Piedra Playa, south of the village is the largest and is over 1km long with beautiful soft sand.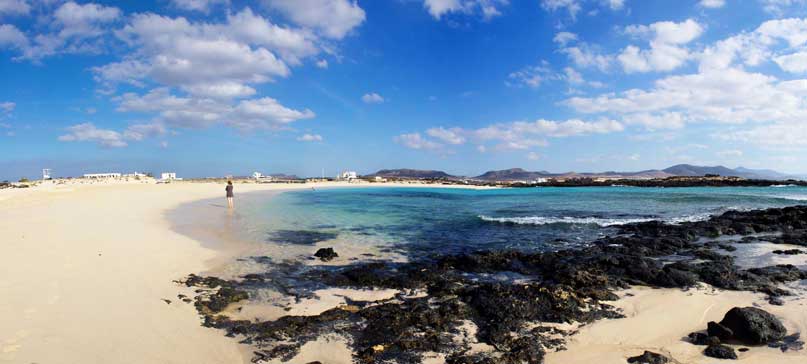 To the north are the lovely lagoon beaches which extend all the way to the lighthouse and beyond. They provide very safe swimming and more privacy than the larger beaches to the south.
See the El Cotillo Beaches page for more details.
Its charm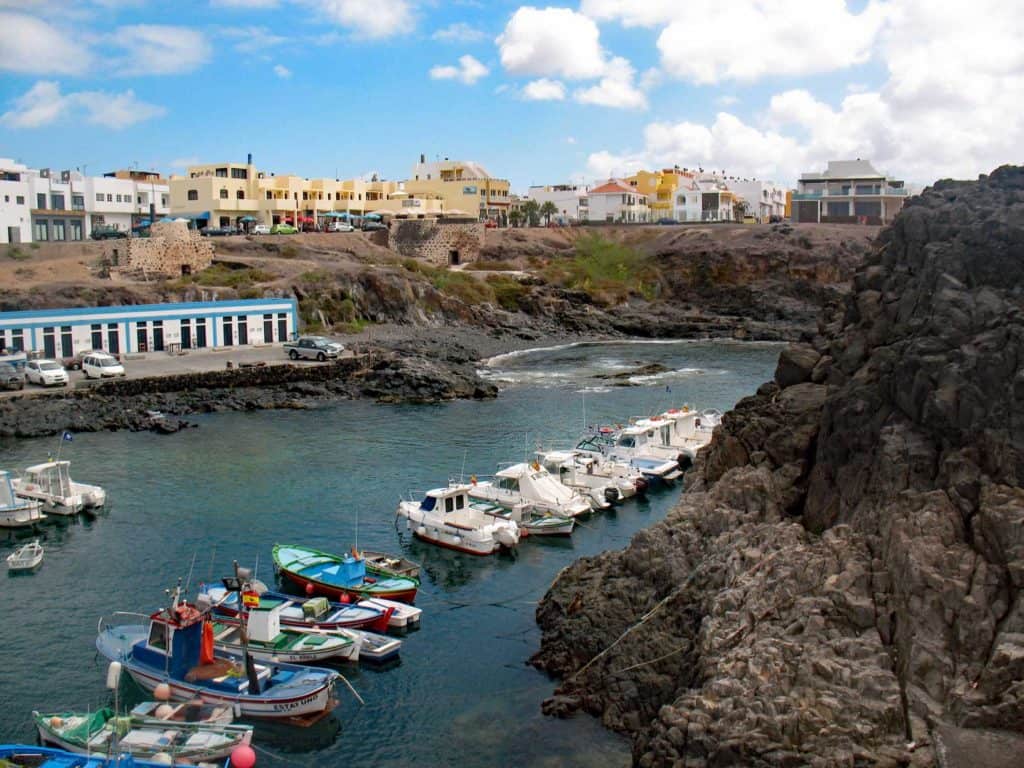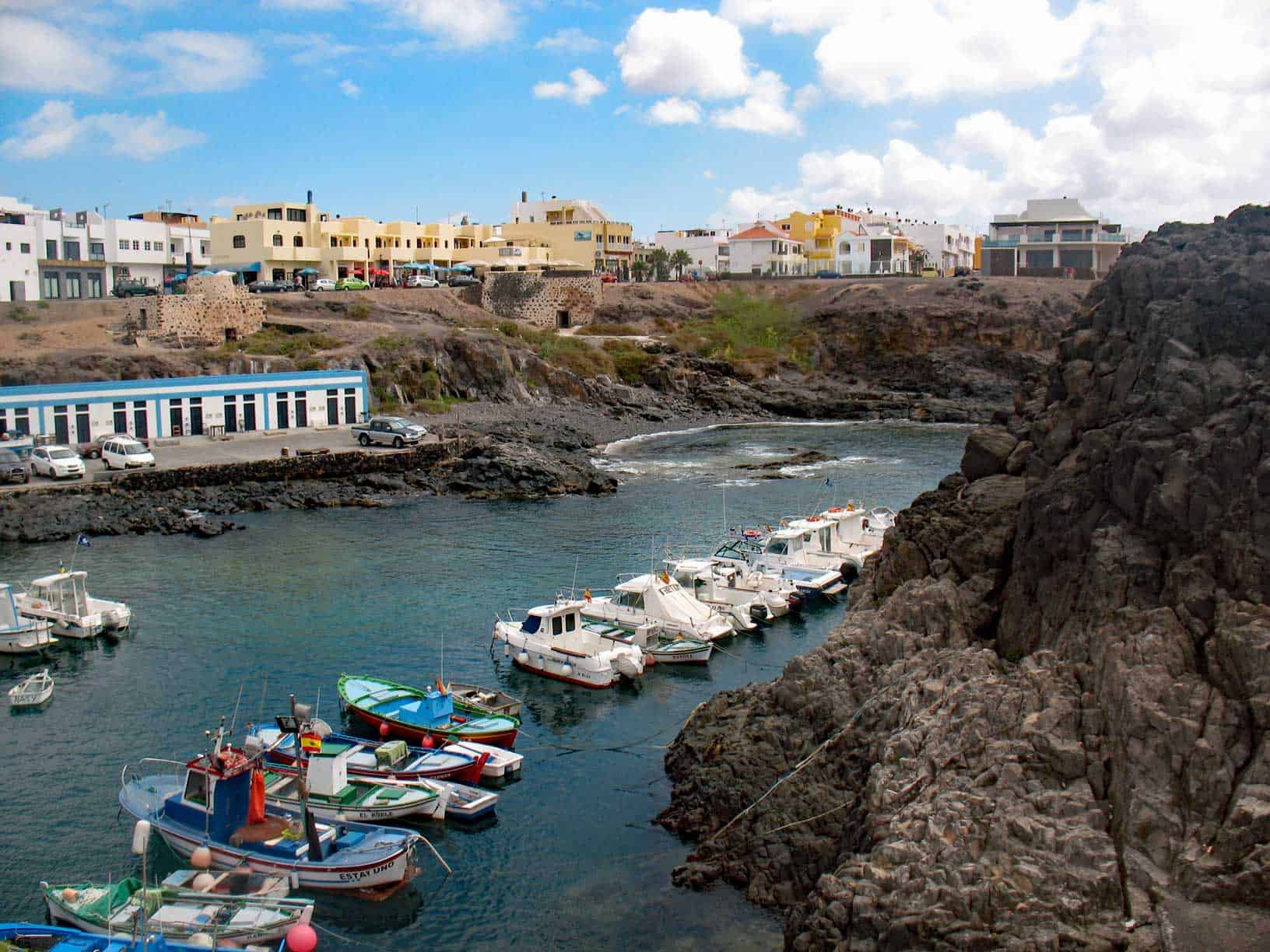 El Cotillo village has two harbours. The old harbour, which is only used once a year now during the fiesta and the new harbour which is still used by the local fishermen and a dive school.
A fish market has been built on the quay in the new harbour but it is yet to open. Well this is Fuerteventura and very little happens quickly. Once it does then finally fresh fish, straight off the boats, should be available to purchase, which will be nice.
People often stay elsewhere in Fuerteventura on their early visits to the island, often in Corralejo or Caleta de Fuste. Then they discover El Cotillo on a day trip by bus from Corralejo, on a coach or buggy trip or while touring in a hire car and quickly become smitten. That is what happened to us. It is that sort of place.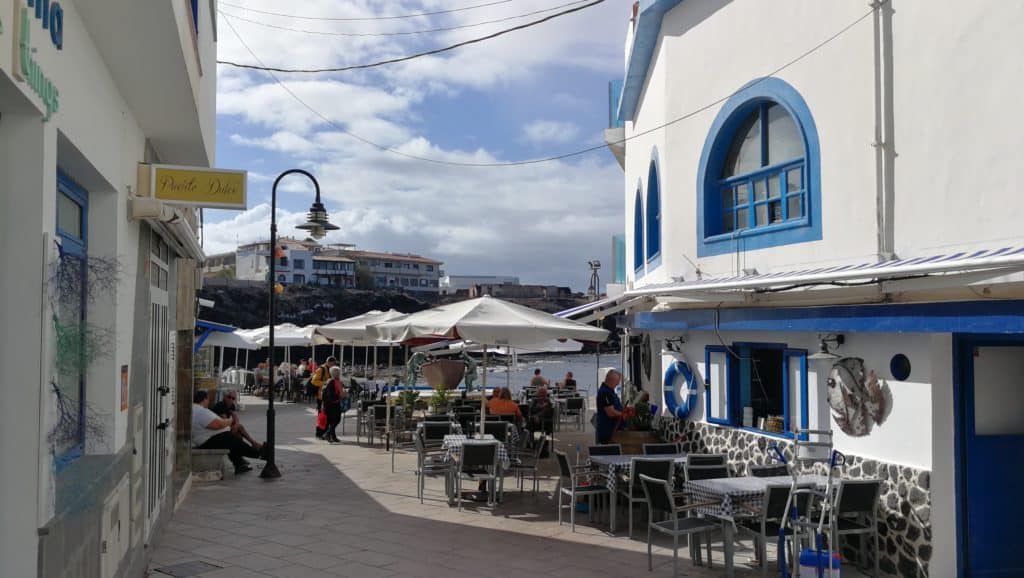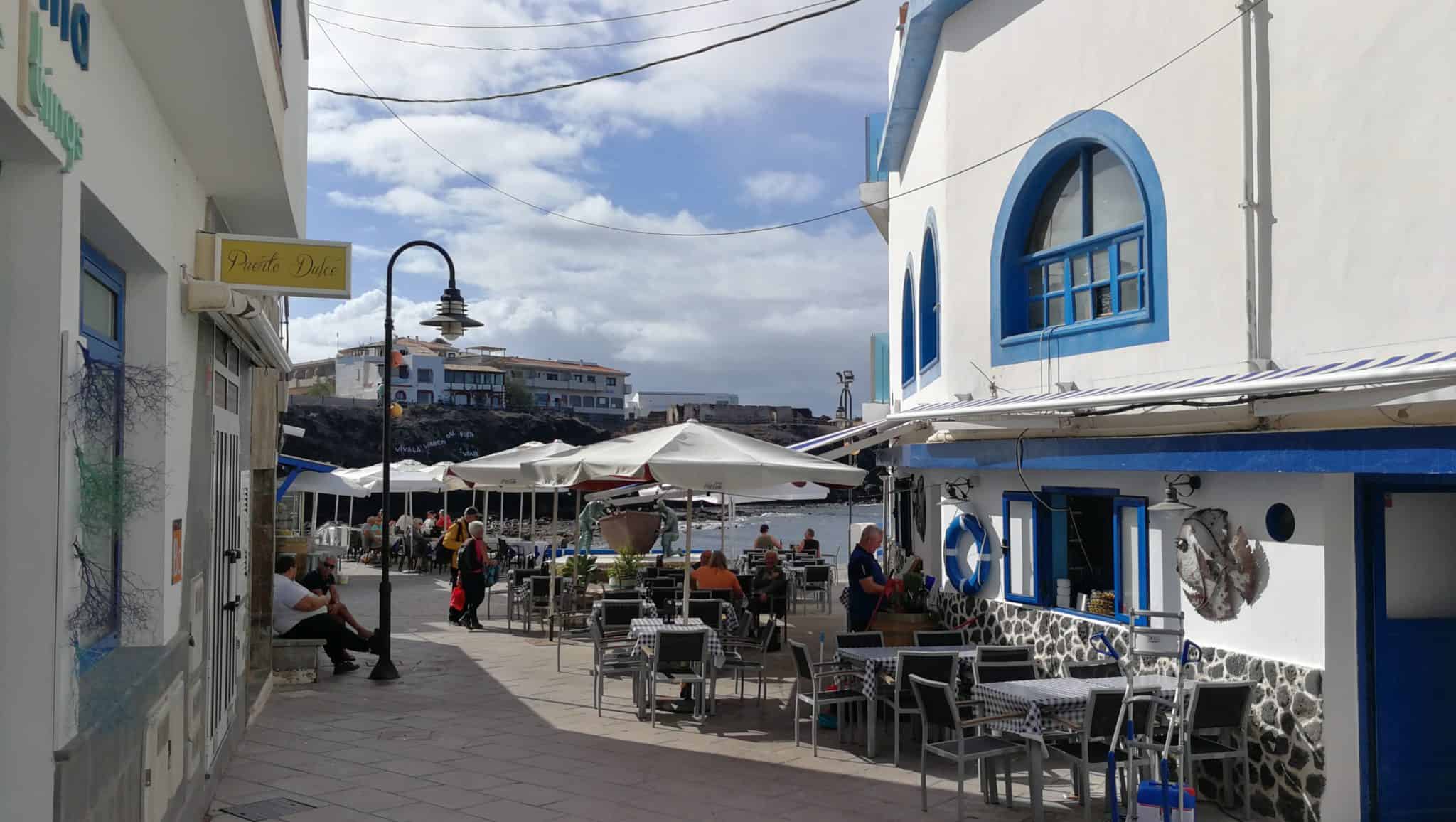 It is certainly a place that it is very easy to fall in love with. Many people come back year after year, and often more than once a year.
That was certainly true for my wife and I. We came across one day from Corralejo on a drive in our hire car and we liked it. So for our next trip to Fuerteventura we booked an apartment to stay here and never looked back.
We even came to El Cotillo on our honeymoon and ended up buying an apartment while we were here.
Sadly, even in El Cotillo, development continues. Apparently that is "progress" but what that actually means is that developers that don't live in El Cotillo, or even on the island, need to make more money. At the moment two new apartment complexes are being built in the area near the Coral Cotillo Beach Hotel.
Its people
Many other visitors make El Cotillo their home, like we did. There is a thriving expat community (as well as locals) which comprises British, Irish, German, Dutch, Swiss, Italian and many other nationalities. This makes it not only feel Spanish but also quite cosmopolitan.
One of the great things is that El Cotillo is not too big. If you go to Caleta de Fuste or Corralejo for your holidays every year at the same time (as many do) then you are unlikely to meet any of the same people each year as they are too big.
However, in El Cotillo, you bump into people you have met on previous holidays all the time.
I don't think we ever met the same people year on year when we stayed in Corralejo. Then, when we started staying in El Cotillo, not only did we meet up with some of the locals and ex-pats we had met before but also other visitors too. Many of those are still friends today. That was why we bought an apartment in El Cotillo rather than in Corralejo as we had originally intended.
Its laid-back feel as a place to stay
That is particularly true if you want to get away from the hen and stag nights, football shirts covering beer-bellies and the behaviour that goes with it in some other places.
There are lots of lovely apartments to rent in the village where you can just chill out and do your own thing. You can choose to eat in, buying food at the supermarket, or visit one of the lovely restaurants around the village. Afterwards have a quiet drink with a view at one of the bars and enjoy good live music some nights too.
For a selection of apartments visit our page – Selected Apartments To Rent.
There are only two hotels in El Cotillo, one of which offers all-inclusive deals. Hopefully, despite some plans, no more all-inclusive hotels will open as that would completely change the atmosphere in El Cotillo.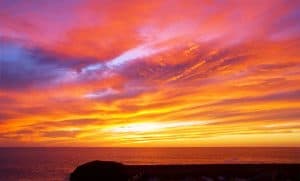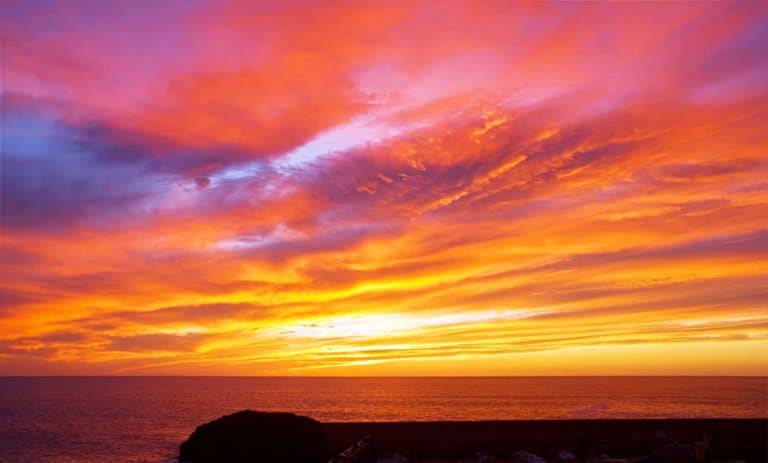 It is perhaps the most chilled place on the island
For those that like to lie around in the sun and relax, it is an ideal place to be. It has so many wonderful beaches after all.
But there is also plenty of things for those more active people to do. These range from water-sports such as surfing, wind surfing and kite-surfing to cycling or even Segway tours. Visit my 13 things to do in El Cotillo page to find out more.
Cotillo is ideally suited for watching the wonderful sunsets that occur here due to it facing west across the Atlantic Ocean. What can be nicer than sitting outside a bar or restaurant with your favourite drink while watching the sun go down? There are plenty of places to choose from to do just that in the old harbour and elsewhere.
Its nightlife?
People definitely do not come to El Cotillo for the nightlife.
You won't find any nightclubs, nor too much in the way of other noisy night-life, so if that is your thing then I suggest you go to Corralejo or Caleta de Fuste.
However, there are some really good bars and lovely restaurants in El Cotillo. You will have plenty of restaurants to choose from to eat at during a few weeks' stay. Many restaurants and bars have live music once a week.
And don't forget, if you feel like a bit more life one night during your stay you can always catch the bus to Corralejo for a night out. You can then either catch the last bus back or take a taxi.
El Cotillo Fuerteventura Video Tour
If you want to see what the village is like in greater detail please browse the rest of the site. You can also watch my video:
Is El Cotillo ever busy?
The busiest time of year in El Cotillo is August. That is when many Spanish people come here from the mainland and other islands for their holidays. It is also when the El Cotillo fiesta takes place which brings many visitors into the village.
Do you need a hire car to stay in El Cotillo?
Although having a car is always convenient, one of the beauties of El Cotillo is that the beaches, bars and restaurants are all within walking distance. There is also a good bus service to Corralejo.
How far is El Cotillo from the airport?
El Cotillo is 46 kms (28 miles) from the airport. It takes approximately 40 minutes to drive.
Is El Cotillo good for watersports?
El Cotillo is very popular with watersports enthusiasts. Surfing, wind surfing and kite surfing takes place on the Piedra Playa and also near the lighthouse. The El Cotillo lagoons are perfect for snorkeling.