El Cotillo transport facilities are not particularly extensive but what there are ok. The buses in particular are very dependable.
If you want to see more of the island but don't want to drive, or use the buses, then check out our tours, excursions and activities page.
Fuerteventura Airport Transfers
There are a number of transfer options to and from Fuerteventura airport (a link to my airport guide). These range from a coach which drops off at various locations in the north of the island to a minibus direct to your accommodation.
Check out the options here – Shuttle Fuerteventura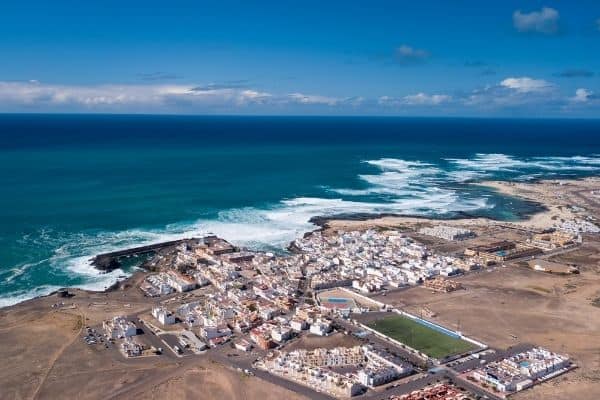 Hire Cars
Many people prefer to hire a car when they stay here as it allows easy access to the beaches further out of the village, easy transport from and to the airport and also allows some sightseeing to other parts of the island.
Driving in Fuerteventura is very easy with good roads and little traffic. You may find my article on driving in Fuerteventura useful if you have never done it before.
Here are driving directions from the airport should you need them.
It is possible to hire a car near the hotel in El Cotillo. If you are going to hire one though you are definitely better to hire one to pick up when you arrive at the airport as you may find it cheaper to hire for a whole week or more than renting one for a day from the village. My advice on hiring a car in Fuerteventura.
Also, you should definitely pre-book a hire car online to get a better rate too.
Buses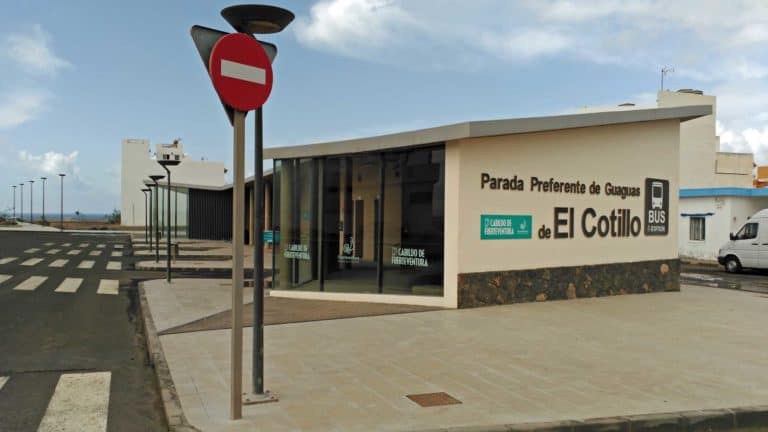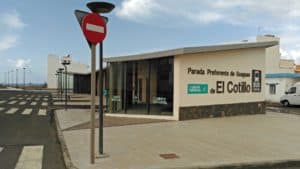 The bus service in Fuerteventura is pretty reliable and not too expensive. The buses are basically coaches so they have plenty of luggage lockers underneath where you can put your luggage, children's buggies, surfboards or even bikes!

It is probably best to wait for the bus at the El Cotillo Bus Station which is located in the south of the village not far from the Toston tower.
Do not wait for a bus at the covered bus stop opposite the football stadium. The bus no longer passes there so you will be waiting a very long time!
There are two bus services to/from El Cotillo:
No 7 bus from Puerto del Rosario to El Cotillo. This runs to/from Puerto del Rosario and passes through Lajares, Villaverde, La Oliva, near Tindaya and Tetir. There are 4 a day in each direction.
No 8 bus from Corralejo to El Cotillo. This runs every hour on the hour (plus a few direct buses), and runs to Lajares, La Oliva, Villaverde and terminates in Corralejo. The return buses leave Corralejo every hour, on the hour too. New timetable.
Routes and Timetables can be found on the Tiadhe Bus Company website
On all buses you can buy a credit card size discount card (called a Bono) from the bus driver. It costs 2 euros initially and then you can add money to it (10 euros minimum or more in 5 euro stages up to a maximum of 50 euros. This card then gives a 5% discount on all bus journeys.
By bus from Fuerteventura airport to El Cotillo
This is not going to be a quick journey.
First you need to catch a bus from the airport to Puerto del Rosario bus station (Guagua = bus). The No 3, No 10 and No 16 all call into the airport on their way to Puerto del Rosario (make sue you catch the one going north not south though).
Then you can either catch the direct bus to El Cotillo (No 7) but this only runs a few times each day so you may have a number of hours to wait.
The alternative is to catch the bus from Puerto del Rosario to Corralejo (No 6) which runs roughly every half an hour and then catch the Corralejo to El Cotillo bus (No 8) which runs once an hour plus a few additional buses at peak times.
Taxi El Cotillo
There are no taxis based in the village. It is possible to ring to get one to pick up but they are mainly based in Corralejo.
You can get a taxi from Fuerteventura airport to El Cotillo but they are quite expensive and may cost as much just one-way (at least 85€+ each way plus a tip) as it would to hire a car for a week or more.
Shuttle Bus
If you don't want to hire a car or book a private transfer then you can pre-book a shuttle bus service from the airport. Be warned though that you may wait quite a while for it to leave the airport and it will probably go to Corralejo first and drop off at lots of hotels.
The journey to El Cotillo may well take many hours. Shuttle Fuerteventura
Bike Hire
There are a few bicycle hire shops in the village so you can hire for a few hours, days or longer.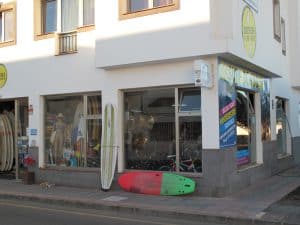 That's it!
Apart from a Segway tour there are no other forms of transport available in El Cotillo – except your feet of course which isn't a bad way to get around anyway.
Many people choose to get their daily exercise by walking to the lighthouse and back every morning.